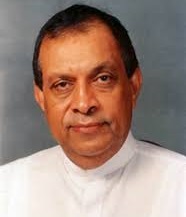 I'm pleased to note that the sixth edition on the Colombo International Maritime and Logistics Conference will be held in Colombo at a time Sri Lanka needs international investments and support. I have been with the conference since 2015 as its patron. I have seen the high standards brought in by this event and also bringing in new thinking to the industry to make shipping and logistics a key pillar of the regional economic growth and help Sri Lanka to use its geographic position to support global maritime and supply chain industries through development of the overall logistics sector.
I also believe that post Covid global economy will have trade shifts and international transportation and connectivity will play a key role in shaping the future economic direction of Sri Lanka and region itself.
I therefore, take this opportunity to congratulate the organizers and extend my fullest support and corporation to make this Conference a success.
Karu Jayasuritya