Colombo International Maritime & Logistics Conference
November 1st & 2nd 2022
Cinnamon Grand, Colombo, Sri Lanka
1. Venue
Conference & Welcome reception: Cinnamon Grand Hotel, Colombo
77, Galle Road, Colombo 3
Phone: +94 112 437 437
2. From Airport To Hotel
The hotel is located in the CBD. From the airport it will take about 35 minutes to the hotels in Colombo 1.
Please refer the hotel packages for taxi service
3. Visa for Sri Lanka:
Please see the below link for all visa details to Sri Lanka
https://www.immigration.gov.lk/web/index.php?option=com_content&view=article&id=151&Itemid=196&lang=en
http://www.eta.gov.lk
4. Currency/Banking
Sri Lankan Rupee (LKR)
Foreign currency can be changed in hotels, banks and authorised exchange dealers located all around the city. If the visitor needs to change money outside the usual banking hours, there are 24 hours exchange counters operating in the Bandaranaike International Airport. Banks open normally from 9 a.m. to 3 p.m. Most credit cards are accepted in many hotels, shops and restaurants.
Please check the below Central Bank link for all currency indicative exchange rates

https://www.cbsl.gov.lk/en/rates-and-indicators/exchange-rates
5. Language
English is spoken widely, while the local languages are Sinhalese & Tamil
6. Climate
Will be about 26 – 35°C (outside temperature)
7. Time
5 ½ hours ahead of Greenwich Mean Time (GMT).

8. Electricity
Electricity in Sri Lanka is at 230V, 50Hz. The power plugs used are of the three-pin, square-shaped or round-shaped type. It is suggested to check before using an electrical appliance.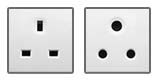 9. Drinking Water
Bottled drinking water
10. Dialling to Sri Lanka
+94
http://www.countrycallingcodes.com/
11. Mobile Phones
http://www.smssrilanka.com/sim-Cards.php
Sim cards are available at the airport

12. Smoking
Not allowed inside the hotel and public areas, unless otherwise stated.
13. Dress code
Official functions/meetings/inauguration:
Lounge suit
Casual attire:
Light and summer clothing made from natural fabrics like cotton is best for everyday wear.
14. Useful links
http://www.gov.lk/web/ - General information on Government of Sri Lanka
http://www.srilanka.travel/- Sri Lanka Tourism
http://www.railway.gov.lk/- Sri Lanka Railways
https://www.google.lk/webhp?sourceid=chrome-instant&ion=1&espv=2&ie=UTF-8#q=hospitals%20in%20sri%20lanka - List of hospitals in Colombo
http://www.police.lk/ - Sri Lanka Police
http://www.mea.gov.lk/- Ministry of Foreign Affairs
http://www.slpa.lk/- Sri Lanka Ports Authority
http://www.immigration.gov.lk/- Department of Immigration & Emigration
15. Ample taxi services available with air conditioning, including uber. There are three wheelers available all over the city, but we recommend a taxi.