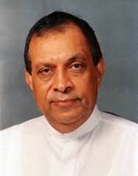 I have been honoured to be the patron of the Colombo International Maritime Conference when it was held in Colombo in 2015 & 2016. I also learnt that CIMC Events have now embarked on a mission to promote Sri Lanka in the global platform; as such I'm aware that two successful conferences have been held in Mumbai India and Dhaka Bangladesh.
I'm happy to note that a further step has been taken to organise the first ever Colombo International logistics Conference in 2019, to broad base the capabilities of the country. Once again, I'm honoured to be the patron of this event to provide the necessary endorsement and support to make a worthwhile project and an event a success.
I'm quite aware that logistics is a vital link for international commerce and for the economic wellbeing of Sri Lanka. This sector is diversified; it connects a spectrum of users and service providers in the global supply chain and helps to create a large amount of employment and wealth for successful nations. It is the responsibility of all stakeholders, policy makers and governments to support and develop this industry as global commerce is driven by well positioned international logistics hubs.
I'm a strong believer that Sri Lanka needs skills and technology advancement in addition to the infrastructure requirements to be a regional leader. I hope both government and industry will look into capacity building and attract the fourth industrial revolution technologies to equip the country to service the global consumers and clients. Advanced logistics will help such requirements and demands to transform the country into a well-recognized hub.
One observation is that Sri Lanka has been always backward in promoting its strengths to the world. Therefore, marketing, awareness and image building of a sector that has clear advantages in Sri Lanka is indeed a need of the hour and progressive thinking. The initiative taken by the event organsiers in gathering all stakeholders and marketing the country through the Colombo International Logistics Conference globally is a commendable effort. I sincerely extend my fullest support and corporation and wish all the success for the conference and wish all the delegates the very best.
Deshabandu Karu Jayasurya
Speaker of the Parliament of Sri Lanka